You would never consider putting generic parts on your Porsche, so why would you waste money on generic sewing machine feet and accessories on your sewing machine?
This question has been asked a lot lately because of the specialty presser feet we are using in the online Stitching Cosmos courses.
Many of our online Stitching Cosmos students have acquired presser feet over the years as they attended various sewing events and now realize that they never used them. Others have completely forgotten why they bought them in the first place! LOL!
But some students have never explored the wonderful world of presser feet and they want them ALL. This can seem like a big investment when looking at the 18 featured presser feet we explore in the 6.5+ hour Stitching Cosmos online course. (Click here to watch 10 videos for FREE to preview what this course is all about.)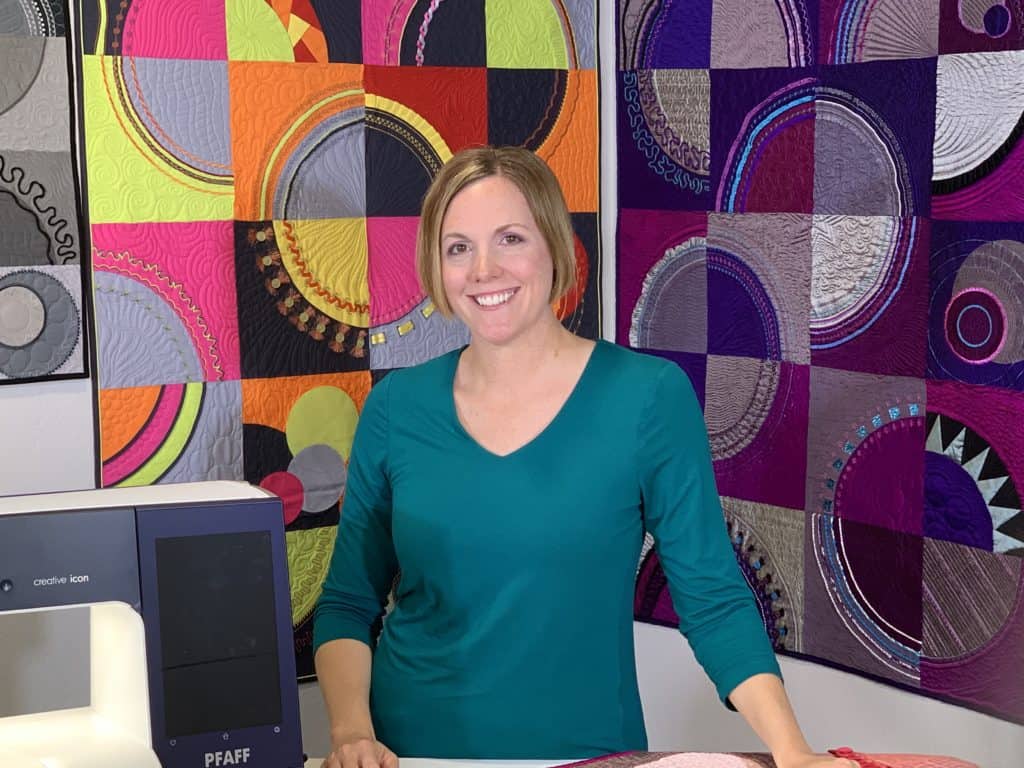 What Constitutes a "Generic" Presser Foot?
If the foot is a low shank or snap-on foot.
Or you are required to buy an adaptor to use it.
Just like pantyhose, one size does not fit all.
Avoid the hassle of having to return an item that does not fit, by buying the RIGHT foot the first time.
Generic Feet Should Not be Used on High-End Sewing Machines
What qualifies as a "High End" sewing machine? Sewing machine brands such as Bernina, Brother, Babylock, Husqvarna Viking, and Pfaff each have brand-specific presser feet. Locating your local high-end sewing machine retailer of these brands is the best way to guarantee you are buying the correct style of feet for your brand and model number of the sewing machine.
Things That Don't Always Line Up with Generic Presser Feet
It may or may not have a wide enough zig-zag opening that matches your sewing machine's stitch width. Selecting a full-width stitch with a presser foot with a small width will break the needle and can harm the sewing machine. 
Not all generic feet have the same measured distance for the needle. If the needle does not align centered in the foot from left to right and from front to back, could cause excessive rubbing against the foot while sewing.  
The foot may not correctly align with the sewing machines feed dogs for accurate feeding of the fabric. This is like driving an unaligned vehicle down the road. It is neither easy nor safe.
After a time, the coating on the underneath side of generic feet will often be worn off from the sewing machines feed dogs. Without a smooth undersurface, presser feet can snag the delicate fabric and not glide correctly over the fabric. This will look and feel like the foot is sticking to the fabric. 
Why be frustrated? It is never worth the headache of trying to make a non-branded foot fit your pride and joy. Treat your sewing machine like you treat your grandkids…with LOVE. 💚
Fit your sewing machine with the correct "SHOES" the first time and they will take care of you.
Want to join the Stitching Cosmos Online Course?
Here is a complete list of presser feet we feature. There are 8 separate lists of Stitching Cosmos Presser Feet – one for each brand (Bernina, Viking, Pfaff, Brother, Babylock, Juki, Janome, and Singer).