Master your sewing machine through a series of sewing techniques, feet, accessories, and decorative stitches.
Over 25 Sewing Techniques and Over 18 Presser Feet are Featured in the PFAFF Stitching Cosmos Online Course!
The PFAFF Stitching Cosmos online course is designed to help Pfaff sewing machine owners master every stitch, every menu, and the 18 top-selling sewing machine accessories. If you know you are not using your sewing machine to its fullest, then this course is for you.
We have had over 100 students graduate from our in-store Stitching Cosmos hands-on classes with such a high success rate, we knew that we had to share this with the world.
Stitching Cosmos students RAVE daily how in-depth these sewing techniques have taken them step-by-step through the amazing journey of unwrapping layer after layer of their sewing machine's capabilities.
Whether you are a beginner and just purchased your first sewing machine or have been sewing for years, the techniques featured in this 6 1/2 hour+ course are GUARANTEED to transform the way you sew.
ATTENTION NON-PFAFF OWNERS!
Do you own a different brand of sewing machine? We have a BERNINA Stitching Cosmos and a HUSQVARNA VIKING Stitching Cosmos online course.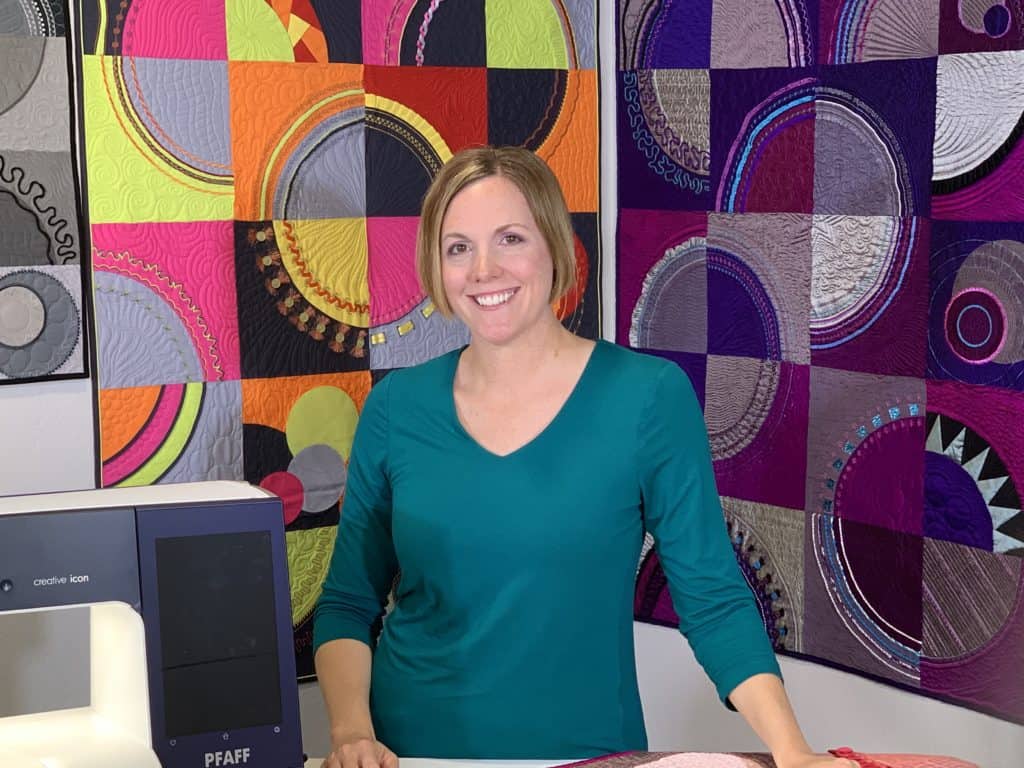 We have worked with users of ALL BRANDS of sewing machines in our courses. The Stitching Cosmos journey is designed to help all sewists reach their potential for sewing creativity.
The techniques learned in this course will then be able to be incorporated into future sewing projects. Just think about how it will feel to add that POP of WOW to your next sewing adventure.
Make your sewing friends jealous as you add a totally new level of sewing pizzazz to that next quilt, table runner, garment, or gift.
Thank you Rebecca C for letting us display and share your Stitching Cosmos masterpiece.
Over 25 Sewing Techniques and Over 18 Presser Feet Featured in the Course
When it comes to sewing techniques and accessory feet, the Pfaff brand of sewing machines works pretty much the same. Whether you have an older Pfaff sewing machine or a no-frills Pfaff sewing machine, the techniques and knowledge you will gain from this course will last a lifetime.
We want to you see firsthand what this course is all about. There are 10 videos available to view for FREE including the lessons "The Ultimate Stitch Book" and "Why Stabilizer is so Important".
Making a Stitching Book is a great opportunity to fall in LOVE with your sewing machine even if you do not enroll in this awesome course!
The video above shows how one student turned her Stitching Cosmos quilt blocks into a Sea Side Masterpiece. Thank you Nina K for putting your own twist on the curved blocks.