I have tried for years to be a stiletto girl. Using some type of pokey tool to help guide, manipulate and finesse fabric mere millimeters from a speeding sewing machine needle is a must-have in any sewing studio.
From tight corners to rounded curves, the fabric is always needing to be bent and held in position before getting sewn. 
For me, I use my trusty seam ripper every time I sit down to sew. Sometimes it is my "stiletto" and sometimes it helps me fix my OOPs.
Why?
Because I keep my seam ripper on my magnetic pincushion. It is always within reach of every sewing project and the pincushion often sits on the bed of my sewing machine while I am sewing.
This year I have sewn enough curved blocks to last me a lifetime. For every block, I used my seam ripper to help ease the curves into place. Check out the new Stitching Cosmos Online Courses and even preview 10 videos for FREE!
Matching seams to aligning fabric edges together, having a sharp tool we can hold near the sewing machine's presser foot is almost as important as a pair of scissors.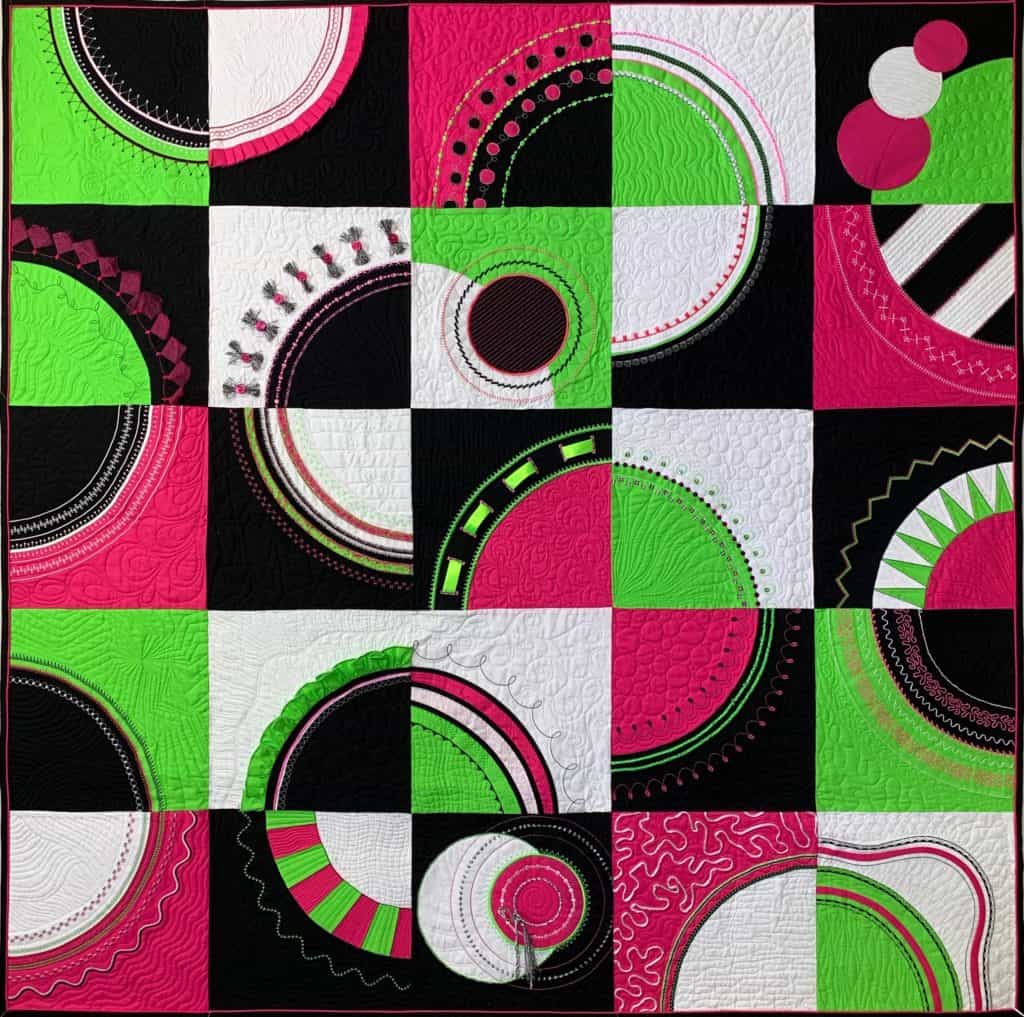 For my medium-sized hands, a seam ripper (with its cap on the opposite end) is just the perfect length. It is sharp and it does the job. 
And for those times that I need to rip, it is right there waiting to help out in my desperate time of need.
I personally like to have as few items/tools cluttering up my sewing table around my machine while I sew. Using a seam ripper is the perfect two-in-one tool.
I am not poo-pooing stilettos. I'm actually a little jealous of those of you who have and use them. They do come in so many shapes, colors, and sizes. And who doesn't want to add a new tool to their studio? 
One practically needs one at EVERY sewing machine, serger, and embroidery machine set up in the room! 
For me, this is how a roll. I have a drawer full of seam rippers I have acquired over the years. They have been my best friend since I started sewing as a young child. Ok, at first the two of us did not like each other, but we have grown into a wonderful working relationship over the years.
Today, I pay tribute to my BEST friend, the Seam Ripper. Thank you for all you do in my sewing studio. You are with me in the good times and the bad times. I hope to always have the special relationship we have found together every time we sit down to sew.
Until next time, stay sharp!
Wondering what my absolute FAVORITE pins are? Click here!