Thread stands solve sewing machine problems. 
In our store we have found that using a thread stand can turn many frustrating sewing issues into an aha moment.

The scenario starts something like this: 
Threads are balling up under the fabric

Thread is breaking

Metallic thread is breaking

Clear thread (monofilament thread) is getting tangled around everything

Needles are breaking
Once everything normal has been checked…new needle, changed to a quality thread, cleaned the machine, etc. we often try placing the spool of thread on a thread stand. 
BERNINA USERS – KEEP READING…

WE HAVE A SPECIAL THREAD STAND IDEA FOR YOU AT THE END OF THIS BLOG!
Why Does a Thread Stand Help?
Thread that has a little extra distance between the spool and the first guide of the sewing machine behaves better. Changing the starting location of a spool of thread further away gives the thread time to relax and time to un-kink. You too might be a little kinked up if you were wound tightly on a spool for the last 1-10 years of your life! LOL You would need a little time to stretch, loosen up and straighten out before diving head first into a sewing machine's tension assembly!
Solution
This extra time given to threads on a thread stand helps it become the best thread it can be and to preform at its optimum level. Thus, running much smoother through the sewing machine. 
Troublesome threads run smoother and clear threads do not get tangled around spool caps.
Eliminate Using (and Loosing) Spool Caps
Spool caps are included in sewing machines to hold spools in place on a horizontal thread pin. But spool caps left having a gap between the spool and cap can lead to thread getting wrapped, pulled and often results in a broken needle. By switching to a thread stand, you eliminate the need of all spool caps. 
YES, PLEASE – Super Size My Thread!
Thread stands are often thought of for the exclusive use of larger industrial sized coned thread only. But as you can see they can be used with everyday size of thread. When possible purchase your favorite thread brand and color such as Aurifil thread on industrial size cones. Anytime you can purchase thread on a larger spool the price per meter is greatly reduced.
Thread Stands Now Found in Top-Of-The-Line Sewing Machines
To prove the point that thread stands are important, check out most of the top-of-the-line sewing machines…they all have thread stands BUILT-IN! 
If sewing machine manufactures are re-designing their sewing machines to accommodate a thread stand system, it must offer a better thread delivering system.
Metal vs Plastic Thread Stands
If buying a thread stand to sit on the table beside the sewing machine, buy a METAL thread stand. Thread stands with a plastic base are not as sturdy and tend to wobble and fall on the floor. 
Metallic Thread
Metallic thread is a booger to work with because it is metal thread being asked to wind its way through an entire sewing machine and then become a life long stitch in fabric. Thread stands give time for the metallic thread to relax and untwist. Be sure to use a Metallic needle too.
Be a Responsible Thread Stand User
Never leave unattended thread hanging from a thread stand. The spinning hand wheel will suck it in and get a tangled inside. See more pictures and read more here: 
A Special Thread Stand For Bernina Owners
We discovered the Mega Spool Stand from Husqvarna Viking fits on the Bernina! Why do we like this option…because it does not take up any table space! It fits directly on the flipped up vertical thread stand on a Bernina machine. And it easily collapses for easy traveling and using at class. You will be the envy of all your Bernina sewing friends. 😉 
Since we are both a Bernina and Viking retailer we tried it one day and it FIT! If you are interested in purchasing this product, please contact your local Husqvarna Viking retailer. Ask for the Husqvarna Viking Mega Spool Stand item #413108301.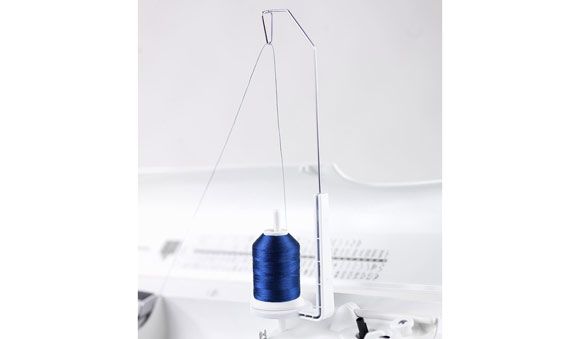 Thread stands can save headaches, frustration and time lost not sewing. Do yourself a favor and start using a thread stand.
Or better yet, treat yourself to a new sewing machine with a BUILT-IN thread stand!