Learn how to troubleshoot and fix the 10 most common SINGER sewing machine problems. From tension issues to threading, these solutions are guaranteed to turn your SINGER sewing machine into your best friend.
1. Which SINGER Bobbins Do I Use?
Most SINGER sewing machines only come with 3 or 4 bobbins. We have found that 10-20 bobbins are about the right amount of bobbins a beginner sewist will need to get started. But, getting the correct bobbin is a must! Singer.com is a great resource when it comes to selecting the right bobbin for the SINGER sewing machine model you own. If you are still unsure, a local sewing machine store will also be able to help. It can be extra helpful to the store's staff to also see your machine (not just the model number on a piece of paper) so they can match the correct bobbin to the machine.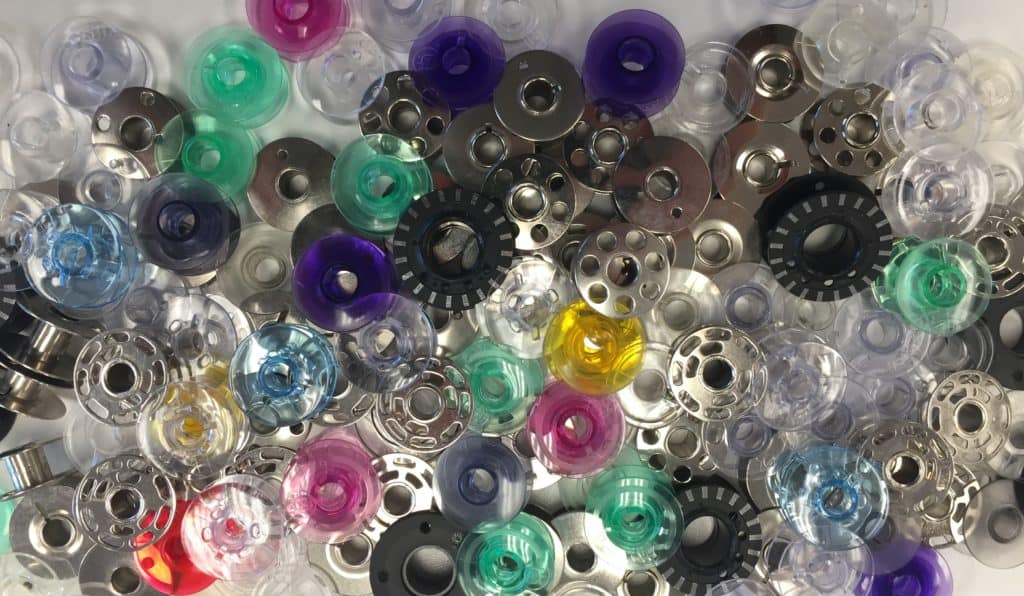 2. Which SINGER Needle Do I Use?
There are needles for different types of fabrics and needles for different thicknesses of thread. Depending on the combination of fabric and thread selected, will determine what kind and size of the needle is needed.
Here is a YouTube playlist with super short needle needles:
3. How Do I Adjust My SINGER Sewing Machine Tension?
Sewing machine tension always gets blamed for sewing problems. As you will learn, there are many elements such as threading the machine correctly, using the right needle for the fabric, inserting the bobbin correctly, and cleaning a sewing machine that can all affect how a sewing machine will sew. Tension is the last item to adjust when problems arise. Tension is adjusted when the top and bobbin thread are two different weights and the stitch is not balanced. A balanced stitch should look identical on both sides of the fabric.
4. Can I Use a Walking Foot or a Free Motion Quilting Foot on My SINGER Sewing Machine?
Yes! Walking feet and free motion quilting feet are available for most SINGER sewing machines. Singer.com can help you find the right walking foot or free motion quilting foot that fits your exact SINGER sewing machine model.
5. How Do I Use a SINGER Needle Threader?
A built-in needle threader is a life-saver, but knowing how to use it is key. Follow the steps in this video to learn how it actually works. If a needle threader is not built into your SINGER sewing machine, a handheld needle threader is a time-saving addition to any sewing studio.
6. How Do I Clean My SINGER Sewing Machine?
Sewing machines need to be cleaned after every 3-5 full bobbins of use and once a year at your local sewing machine service center. Fabrics and threads are linty and will fill up the bobbin area underneath the throat plate with lint that can cause skipped stitches and thread breaks.
Here is how to clean a SINGER Sewing Machine with a drop-in bobbin:
Here is how to clean a SINGER Sewing Machine with a front-load bobbin:
7. When Do I Need a Sewing Machine Service by a CERTIFIED Service Technician?
SINGER sewing machines, just like your vehicle, require regular maintenance and tune-ups. If a sewing machine has sat unused for more than a year, it is wise to have it serviced before use. You would never expect a car to handle a summertime road trip without a little TLC, why would a sewing machine perform at its peak without some basic attention?
If the needle no longer connects with the bobbin thread, it is time for a service. And, if something is hitting, making a loud noise, squeals, or grinds while sewing, it is time for a professional sewing machine technician. If the machine is over 30 years old, it might just be time to look at purchasing a new machine instead of putting money into an old tired machine.
8. Which Thread Should I Be Using on My SINGER Sewing Machine?
Quality sewing thread is a must for successful sewing results. Buying or using cheap thread can cause headaches and unnecessary frustration. Don't skimp when buying sewing thread. If the antique thread from grandma's original sewing box is what you are using – STOP! Your sewing machine deserves quality thread. Keep in mind that thread makes up 50% of your seam…you don't want things falling apart. Click here to find quality sewing thread.
9. Why Do I Have Loops on the Back of My Fabric?
This common problem is actually an operator error. The top thread has not been correctly seated in the top tension area. Watch this video to see how doing the "tension test" can help you always thread a sewing machine correctly.
10. Why Does My Thread Keep Breaking on my SINGER Sewing Machine?
The easiest solution is to change the needle. Next, clean out any lint from underneath the throat plate. Change threads to a higher quality thread.
Want to Learn More Sewing Techniques?
Check out our Stitching Cosmos online course!
What is a SINGER Stitch Book?
Learn more about the stitches on your SINGER sewing machine by stitching a Stitch Book. Learn how with this video:
Online Sewing Classes, I Recommend
Open up an entirely new world of online sewing classes with Craftsy! I have posted My Top 10 Craftsy Sewing Classes here!